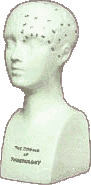 Last update: 1998-05-01

The Analytical Diagnosis of the Most Important Phrenological Faculties
Throughout history, a number of Phrenological Faculties have been identified.
This page presents a list of the faculties, with a link to a separate page for each faculty, illustrated by drawings from Wells.
The number of classical faculties, according to Gall et al., amounted to forty-two.
Several classifications of these faculties have been proposed.
The following classification is based on the works of Paul Bouts. After extensive experimentation, Paul Bouts defined the following set of important faculties, the value of which has been experimentally verified.

See also the Phrenological Chart.
---