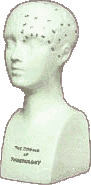 Last update: 1998-05-01

Rasputin (1869-1917)
---
Gregory Yefimovich Rasputin was a notorious intrigant at the Russian tsarist court. A shameless and crafty manipulator, he extended his influence to all levels of power. Passing as an Orthodox pope, he got the nickname the holy devil....
Even a superficial Phrenological diagnosis however will be sufficient to unmask the innate evil and the true personality of this imposter....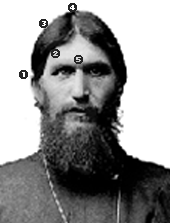 The skull is ogival shaped, rather than dome-shaped: absence of higher aspirations, low type. Whenever one comes into contact with individuals displaying this cranial configuration, caution should be taken!
The narrow and high back of the skull, as well as the wide ear axis are an atavistic reminder to the skulls of pre-historic humanoids.

This Phrenological description was adapted from Prof. Bouts' Psychognomy, with the kind permission of the author.