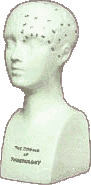 Last update: 1998-05-01

Webdesign by:


visitors on this page
since 07/03/1998
Mylène Farmer
---
Mylène Farmer is probably the most successful French singer of this day. Her songs, composed by Laurent Boutonnat on Mylène's own lyrics, appeal to hundreds of thousands of fans throughout the world. Mylène is quite different from most other popular singers however, since her song lyrics are characterised by a much more profound contents and a deeper meaning.

More information about Mylène Farmer can be found on a number of (unofficial) websites. An overview of selected sites can be found here.

Mylène Farmer is an elusive and enigmatic woman. The science of Phrenology will however help us to unveil her secrets...

Original © for this photo: Herb Ritts/Visages. Please do not reproduce for commercial purposes.Ý
---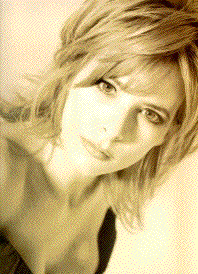 ---
Now look good at this picture, and then try to answer the following questions:
Why is Mylène more ruled by imagination and phantasy than by logical reasoning?
Which is her intellectual type? Objective (realistic) or subjective (shaping the world according to her own mind)? Why?
Mylène's poetry is very imaginative and reflects a particular sense of beauty. Why?
In many of her songs, Mylène shows a particular attention towards the meaning of life and death, towards feelings which go beyond material values. Why?
Mylène is a a woman of very deep and sincere feelings. Show some characteristics of her face and head which prove this.
Ready? Turn the page and see...

---
---