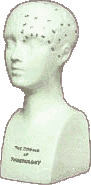 Last update: 2019-03-09

Webdesign by:


Bibliography about Phrenology
---
Bibliographical reference works about Phrenology can be difficult to get, as many of the old works are out of print now. There are however a number of new historical reference works which have been published recently.
The bibliography presented here are the books of the webmaster's collection.
A very extensive reference list can be found on John Van Wyhe's site at http://www.historyofphrenology.org.uk/biblio.htm.